WHEN SOMEONE DIES
in their home or business, what happens next?
---
Crime Scene Cleanup
The next step is cleanup, and it's not a job for a standard janitorial service. Count on the professionals at ArchAngels to help you through this difficult time. We are a biohazard remediation company that specializes in the unique aspects of trauma and crime scene cleanup.
IT'S A CRIME SCENE?
We understand that term might be a little shocking, especially given all that you are going through.
---
If you are dealing with the circumstance where someone you know has taken their own life or your elderly parent has passed away in their home, why are we calling it a crime scene? This death wasn't a crime.
To you, it's not a crime scene. To you, it's your loved one. It's your home. Rest assured, crime scene cleanup is merely the term commonly used by the industry, and we are not law enforcement. Our first priority is to help you when it matters the most, easing psychological, emotional, and physical trauma in times of crisis. We take great care in helping to restore your home.
WHAT'S INVOLVED IN CLEANUP?
The effects of suicidal behavior on friends and family members are often emotionally devastating, and when a suicide attempt is successful it can also lead to significant damage in a home. Gun suicides can affect a large area, for example, and bodily fluids must be handled as a biohazard. Archangels has a discreet and supportive staff of field technicians and office managers who are trained to handle these types of situations. We will remediate all organic material and properly dispose of affected items in compliant biohazard storage.   MORE >
An unattended death is when a body has not been discovered for days, weeks, or even months. After the death occurs the body starts to decompose. Decomposition takes place naturally. This process, however, can be the most gruesome of all crime scene cleaning jobs and devastating for a family to find. Decomposing bodies will leach out biological fluids that seep into the surrounding areas. These fluids can cause odors, insects, bacteria, and mold. Our goal is 100% sanitized, and we will remove affected personal property as well.   MORE >
After a murder or other trauma, when the crime lab and coroner clear the scene, it's time for ArchAngels to step in and help get you back to normal. We specialize in cleaning not just bodily fluids and biohazards, but also tear gas and other reminders of criminal investigation such as fingerprint dust and chemicals. We work efficiently and carefully to remove all reminders of the trauma, and we are experienced in working directly with law enforcement personnel. We are fully certified by ABRA and will follow all regulations.   MORE >
It's critical that all biohazard materials be disposed of and handled by competent certified technicians complying with OSHA & EPA regulations for the safety of you and others. Business owners, landlords, commercial and industrial properties risk legal issues and lawsuits by employees and other individuals if the area is not properly decontaminated and sanitized. ArchAngels is trained in the unique challenges of workplace biohazard remediation, including machinery and transportation.   MORE >
ArchAngels performs both reactive and proactive sanitization of facilities that are at risk for biohazards and communicable diseases. ArchAngels is one of only a handful of remediation companies in the country that is prepared to handle a mass widespread of the Ebola virus. We strictly adhere to the OSHA, EPA, CDC and other state and local health and environmental agency regulations and are compliant with proper certifications, insurance and training requirements. We also work with homeowners and facility managers where a seriously ill person may have contaminated the property.   MORE >
HOW DOES THE PROCESS WORK?
1. Call ArchAngels for Trauma Cleanup
Place a call to ArchAngels on our 24-hour emergency hotline at 888-750-0200. We are here to answer your call and walk you through the process.
2. Describe Your Situation
We are going to want to know things like:
General description of the situation & rooms affected
Type of structure (home, apartment)
Is next of kin available to authorize cleanup?
The name of your insurance carrier
3. We'll Be On Our Way Immediately
We know how important it is to clean up your property as soon as possible. Our team can usually be at your home within 5 hours to assess the situation and determine what is necessary to perform the project.
4. We'll Assess the Cost of Remediation
While we cannot provide a firm estimate over the phone without seeing the damage ourselves, we can usually give you a general range based on similar situations. Upon arrival we'll assess as thoroughly as possible without removing structure, including documenting with photographs, and we'll outline our process for your remediation. We'll communicate with both you and your insurance carrier, if applicable, throughout the job if we find any unexpected challenges that would impact our estimates.
To ensure fairness and market value, we use a third party estimating software from Exactimate, which calculates price based on a number of variables including geographic location, physical structure and surface areas affected. Exactimate is trusted by insurance companies and industry professionals.

5. We'll Help Determine Insurance Coverage
Most times your homeowners insurance will cover the cleanup and any subsequent restoration. We'll work with you and your insurance company to determine coverage to understand your final cost. We can also provide alternative financing options.
6. Our Team Arrives to Start Cleanup
We follow a very strict process that ensures not just total sanitation but also compliance with OSHA and EPA regulations. Our team of specialists will wear biohazard suits and will cordon off areas to minimize cross contamination. This is nothing to be alarmed about. This is standard procedure for a biohazard cleanup, regardless of the seriousness of the trauma. Even dried blood can be a risk for workers and you, so we take safety seriously. When we are done, we will remove all affected material in approved biohazard containers and will work with you for disposal of any other personal property.
Helping you through your crisis: we are specialists in the unique aspects of trauma cleaning
ArchAngels BioRecovery is a licensed, bonded and insured company operated by caring and compassionate individuals that specialize in the field of decontamination and restoration of biohazard environments as a result of tragic deaths and accidents. Our first priority is to help you when it matters the most, easing psychological, emotional and physical trauma in times of crisis.
Testimonials
"The staff at Archangels is outstanding!! We were treated with kindness and sympathy. They took the time to explain every step that was being taken. Thank you."
"The Archangels team did a great job in a stressful situation. My mom had passed away in her home and they showed up right away, even though I was out of town and it was 2 days until Christmas. They worked through the Christmas holiday to make sure the house was cleaned up quickly. They did a wonderful job, and Kevin was very helpful through the entire process. Thank you."
"The two gentlemen that came to my house, read the agreement in full and I signed and dated it. They did a good job cleaning up the spill with professionalism. I appreciate the same day service with the clean up. Thank you again for your friendly service."
"Dealing with Archangels was simple and professional during a very difficult time. They were able to respond very quickly and completed the services sooner than expected. After Archangels services, the home was restored to its normal condition without any traces of the incident or of the cleaning."
We Are Family Owned and Operated
Our business has been in the family since 2005.  We take great pride in our compassionate service. Archangels technicians will go above and beyond the call of duty for you to make this experience as pleasant as possible.
Our family opened ArchAngels in 2005, with our first location just outside of Chicago, IL. Now, we proudly serve not just the Midwest, but throughout the US as well. We take great pride in our compassionate service. ArchAngels technicians will go above and beyond the call of duty for you to make this experience as effortless as possible.
All our field techs are trained and certified by a nationally-recognized bio removal training service called the American BioRecovery Association (ABRA). They are taught to follow federal guidelines such as OSHA, and follow state and federal regulations as well. They are also trained in specialty certifications such as lockout/tagout procedures for industrial accidents with machinery.
We Have Big Hearts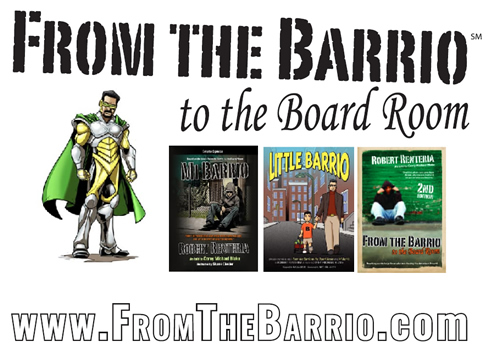 ArchAngels has carefully chosen From the Barrio Foundation as our charity of choice because of the social impact we are able to make in real time across the United States.  Dr. Robert Renteria has made it his life mission to both develop and deliver teaching tools to our communities that are culturally relevant, that resonate with the youth while promoting student achievement.  We are proud to say that his books "From the Barrio to the Board Room, the graphic novel Mi Barrio and his activity coloring book Little Barrio" are being taught to students in classrooms across America and in over 25 other countries around the world.
We have made the commitment to partner with Dr. Robert Renteria in developing our future leaders to become mentors and also in making our world a better and safer place for everyone.  Dr. Renteria believes in prevention over intervention and we share in his methodology, we must be focused on providing solutions rather than to continue putting band-aids on bullet wounds.
Website:  www.fromthebarrio.com
FREQUENTLY ASKED QUESTIONS
We understand there are a lot of questions in a situation like this.
You're scared, you're hurt and you don't know where to start. Here are a few of our most asked questions.
Typically speaking the property owner, the next of kin of the deceased or other family members will contract the cleaning services. In some cases, our services are contracted through the insurance company or a representative of the estate of the deceased.
Homeowner's insurance will typically pay for the clean-up costs associated with an accidental death. We will assist you by filing a claim, and working directly with your insurance representative, so that you can focus on what matters most during this difficult time. While we are unable to determine which benefits you qualify for, after the claim is filed, your insurance company will be able to confirm coverage and should allow you to select the cleaning service that you feel most comfortable with. Our company has established professional relationships with major insurance providers, allowing us to work directly between each party for your benefit.
If your homeowner's insurance does not defray the cost of our cleaning services, we accept all major credit cards and individual payment plans. In some cases, a portion of the cost might be paid through the crime victim compensation funds provided by the state. ArchAngels also provides no-insurance discounts and financial hardship programs if qualifications are met, we insure that you are assisted and comfortable with proceeding before services are started.
Whatever your finances, our team will work with you to choose the best payment options for you.
Every scene is different and each is estimated based on its own merit. The costs related our service varies based on the extent of damage to the structure and its contents. It is very difficult to immediately provide an estimate for services as much of the scope of work required is determined while the work itself is in progress. Some of the factors that determine the cost include, but are not limited to, how far biological fluids have traveled, if flooring needs to be removed, how many layers of flooring, if joists and beams have been affected, if walls and ceilings require cleaning, the amount of personal property affected and if there is an odor, if those organic vapors have embedded themselves into the structure.
Upon arriving at the scene, our experienced team will evaluate the damages and develop a plan for the scope of work expected to be required to clean and sanitize the property successfully. Initially, a range for the cost – both best/worst case scenario – can be provided until any and all complicating factors can be ruled out and a firm estimate can be developed.